Katie has taught writing at West Virginia University and Virginia Tech, and in West Virginia Wesleyan College's Low-Residency MFA Program. She is certified as a Flying WILD educator trainer and facilitator by the Council for Environmental Education. She has given presentations on teaching creative writing using experiential methods at meetings and workshops, including the conferences of the Associated Writers and Writing Programs and the Raptor Research Foundation.
At WVU and Virginia Tech, she has taught the following courses:
Summer II 2016, 2015, 2014, 2013, and 2012 (West Virginia University):
Writing Appalachian Ecology (English 318 / Biology 318W)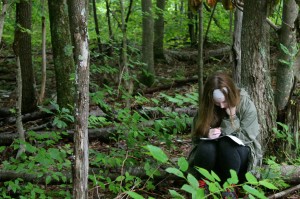 (Visit our course website for more information.)
This course encourages students to think about the long-term future of our planet. What could our world be like in 200 years? How will current environmental problems change the future? What will the effects of global climate change look like? How will natural resource extraction permanently affect our homes? How will our relationships with the natural world change? Students will have the opportunity to address questions like these in the creative nonfiction essays they will write in English 318 / Biology 318W.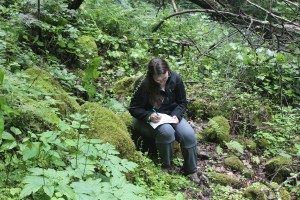 This course is based on the Long-term Ecological Reflections (LTER) program that "brings together ecologists, creative writers, and philosophers at sites of long-term ecological research to advance understanding of ecological change and of our evolving relationship with the natural world." The original LTER, developed at Oregon State University, took place in the Andrews Experimental Forest in Oregon and at Mount St. Helens in Washington.
Our version of this program—Long-term Reflections on Environmental Biology (LTREB)—will take place in the classroom at WVU as well as in the Fernow Experimental Forest near Parsons, WV. The federal government has owned the forest since 1915, and in the mid-1930s watershed and forest research projects were initiated; these long-term projects provide excellent opportunities for reflection on "ecological change" and "our relationship with the natural world." We will travel twice as a class to Fernow, where we will hear from several researchers who work on the forest. Students will learn to creatively communicate scientific research for a broader audience, and they will write their own personal reflections based on their experiences and the research underway at Fernow.

Fall 2013 and 2011 (WVU):
Graduate Creative Nonfiction Workshop (English 618B)
This workshop course will explore the exciting and diverse genre of creative nonfiction. Each student will have two essays workshopped by the class and the instructor. Additionally, you will read and discuss examples of contemporary nonfiction from The Best American Essays 2010 as well as work by a variety of other authors. We may also read selections from Best American Travel Writing and Best American Science & Nature Writing. We will also discuss (and attempt to answer) questions about publishing your creative nonfiction: Where should you submit your work? What about contests? What about publishing a book? Each student will be asked to introduce the class to a literary journal.
Spring 2011 (WVU):
Special Topics in Creative Writing: Nature Writing (English 318)
This class will be a multi-genre workshop for students interested in nature writing. Students will read and study contemporary nature writing as well as write their own creative nonfiction, fiction, and poetry on the subject. For the purposes of this class we will broadly define "nature writing" as any work of poetry or prose in which the environment plays a significant role. As a class we will consider many questions: Can nature writing be more than celebratory and pastoral? What role has nature writing played in conservation? Is nature writing always political? How has nature writing helped shape our national identity? What does it mean to represent a place or region in your writing?
Fall 2010 (WVU):
Creative Writing: Fiction (English 212)
This course introduces students to the ancient art of fiction writing. In addition to studying contemporary fiction writers, students will write their own literary short stories.

Spring 2009 (Virginia Tech):
Creative Nonfiction (English 3724)
English 3724 explores creative writing's most exciting and diverse genre. In this course students will have the opportunity to read and write personal essays, memoir pieces, nature essays, travel narratives, lyric essays, and nonfiction short-shorts—all forms of "truthful" creative prose that fit under the umbrella term "creative nonfiction."
Introduction to Creative Writing (English 2744)
This course is designed for beginning creative writers. Students will learn and practice skills important to writing poetry, fiction, and creative nonfiction.
First-year Composition (English 1106)
After completing English 1106, students should be able to successfully meet the Council of Writing Program Administrators learning outcomes. The WPA outcomes state that students completing first-year composition classes should have an understanding of rhetorical knowledge; understand critical thinking, reading, and writing; be aware that writing is a process; and understand the conventions of academic writing. At Virginia Tech all sections of First-year Composition are themed. In Spring 2009 our course theme will be "Earth Sustainability."

Past courses taught at Virginia Tech:
Creative Nonfiction (English 3724)
Introduction to Creative Writing (English 2744)
Introduction to English Studies (English 2614)
First-year Composition (English H1204, 1106, 1105)
Past courses taught at West Virginia University:
Introduction to Creative Writing (English 111)
Composition and Rhetoric (English 101 and 102)