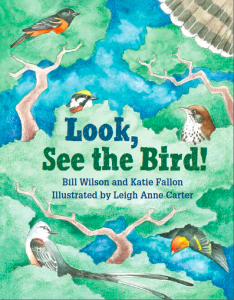 Look, See the Bird! is a hand-drawn, beautifully illustrated children's book which seeks to not only promote curiosity in children about the natural world around them, but also to establish the universal quality of having a connection with nature and the importance of being good stewards of the earth and all its creatures.
The book follows children in a variety of locations as they learn learning about local birds and their habits. Beginning with Ruben and his sister Maria, who have decided to spend their day bird-watching in the coffee plants of their Nicaraguan farm, the story wings towards locations as far removed as Alabama and Ontario, lighting down briefly along the way as children the world over join with Ruben and Maria in spirit, looking for birds in their own backyards.
Each time, the question is asked by one child to another: "Look! See the bird?" And each time, the children are treated to the sight of a majestic bird native to their home. This unifying question joins the children on the page with the children holding the book, inviting them to look outside, and see what they can see!
Available on Indiebound, Amazon, Barnes & Noble, and wherever books are sold.