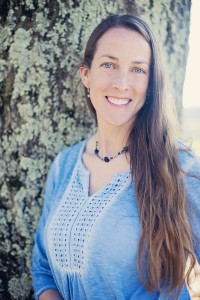 Katie Fallon is the author of the nonfiction books Vulture: The Private Life of an Unloved Bird (University Press of New England, 2017) and Cerulean Blues: A Personal Search for a Vanishing Songbird (Ruka Press, 2011), which was a Finalist for the Reed Award for Outstanding Writing on the Southern Environment. Katie is also the co-author of two books for children, Look, See the Bird! (2017) and Look, See the Farm! (forthcoming 2018), both from Hatherleigh Press.
(Follow this link for more information about Katie's books.)
Katie's essays have appeared in a variety of literary journals and magazines, including Fourth Genre, River Teeth, Ecotone, Bark Magazine, Appalachian Heritage, Now & Then, Isotope, Fourth River, the minnesota review, The Tusculum Review, and elsewhere. Her essay "Rebirth" (published in River Teeth, Fall 2013) was listed as a "Notable" in Best American Science & Nature Writing 2014, and her essay "Hill of the Sacred Eagles" was a finalist in Terrain's 2011 essay contest. She has been nominated several times for a Pushcart Prize. Katie has taught creative writing at Virginia Tech and West Virginia University; she is currently Guest Faculty at West Virginia Wesleyan College, where she teaches Nonfiction in the Low-Residency MFA Program.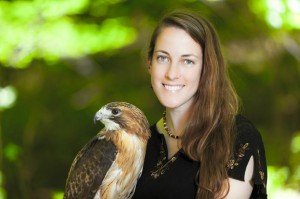 Katie is also one of the founders of the Avian Conservation Center of Appalachia, Inc., a nonprofit organization dedicated to conserving wild birds through scientific research; outreach and public education; and rescue and rehabilitation. The ACCA is based near Morgantown, WV, and each year treats more than 300 injured wild birds, conducts dozens of environmental education programs, and sponsors citizen-science research projects. Email Katie (or visit the Outreach section of this site) if you'd like to learn more.
A lifelong resident of Appalachia, Katie's great-great grandfather, great-grandfather, and grandfather were coal miners in West Virginia and Pennsylvania. Both of her parents were public school teachers. In addition to writing, teaching, and caring for injured wildlife, Katie enjoys birding, hiking, travel, yoga, and wine. She lives in Cheat Neck, WV, with her daughters Laurel and Cora, spouse Jesse, beagle-ish rescue dogs Liza Jane and Sally Ann, and adopted mustangs Rosie and Ranger.
Katie's first word was "bird."
Listen to an interview with Katie on BirdCallsRadio, September 2016.
Read Katie's Work:
Essay "Hill of the Sacred Eagles" published in Terrain and named a Finalist for its 2011 Creative Nonfiction Contest. This piece appears in a different form as a chapter in Vulture.
Essay "Rebirth" published in River Teeth, Fall 2013. Nominated by the editors for a Pushcart Prize and listed as "Notable" in Best American Science and Nature Writing 2014. This piece appears in a different form as a chapter in Vulture.
Essay "Dogs Bring Comfort in Wake of Virginia Tech Tragedy" in Bark Magazine, 2011.
An excerpt from Chapter Two of Cerulean Blues in The Tusculum Review, 2011.
Katie is featured as a "hero" on the Aurora Lights blog.