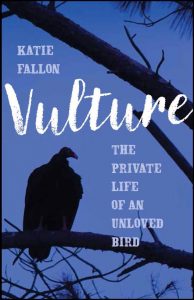 VULTURE: The Private Life of an Unloved Bird (University Press of New England, March 2017)
Paperback will be released in February 2018!
VULTURE chronicles the life and times of one the world's most under-appreciated and overlooked birds: the turkey vulture. Part ecological memoir, part travel narrative, part scientific exploration, and part love story, this book examines the roles turkey vultures–and all vultures–play in healthy ecosystems. Fallon travels to India, Arizona, Virginia, Pennsylvania, and her own backyard in her quest to study, care for, and observe this often unloved though vitally important (and uniquely beautiful!) bird. Available from UPNE, Amazon, Barnes & Noble, and wherever books are sold.
Listen to Katie talk about vultures with Bill Thompson III of Bird Watcher's Digest on "This Birding Life."
Listen to and interview with Katie on Bird Calls Radio.
Read Katie's lighthearted Buzzfeed list about baby turkey vultures here.
Praise & Reviews:
"When you read this book you will know why I consider it to be the most eloquent and beautiful depiction of a vulture ever… A heartfelt and authoritative account of the world's most numerous and misunderstood avian scavenger. Written in a style reminiscent of Edward Abbey and John McPhee, Fallon successfully captures the natural history of the species and its ability to succeed in both natural and man-made landscapes. Destined to change the mind of anyone who reads it." — Keith L. Bildstein, PhD, Sarkis Acopian Director of Conservation Science at Hawk Mountain Sanctuary
"Naturalist and bird rehabilitator Fallon (Cerulean Blues: A Personal Search for a Vanishing Songbird) presents an entertaining, well-researched title that nominally concerns the familiar turkey vulture but ranges widely, incorporating up-to-date information on condors and vultures worldwide… She displays great passion and enthusiasm yet writes knowingly and dispassionately on the science of her subject in an engaging, literary style." — Library Journal, starred review
"This book is about vultures in the human world, but nowhere in the story does the human aspect overly intrude. The great birds are front-and-center, consistently painted in a positive and empathetic light. It is to Fallon's credit that she is able to coax the reader into the same love affair with vultures that she herself enjoys, without romanticizing her subject to the point of putting off her audience." — Sense of the Misplaced
"Who would have suspected the astonishments of vultures? Katie Fallon has given us an ingenious, funny, delightful book."—Janisse Ray, author of Ecology of a Cracker Childhood
"Katie Fallon, who writes with elegance, humor, and restraint, tells the lost stories of the vulture tribe. This book will fill you with wonder."—David Gessner, author of All The Wild That Remains: Edward Abbey, Wallace Stegner, and the American West
"Fallon shines a bright light on this clan of sadly unloved birds, which are not only vitally important ecologically, but are also among the most imperiled avian groups on the planet.  Vulture is an overdue love letter to a bird that deserves far better than we've given it."
—Scott Weidensaul, author of Living on the Wind
"This is a book that begged to be written. . . . Fallon allows that the study of flying turkey vultures is akin to meditation. Rarely hurried, coursing the heavens like a setter seeks quail, this most widespread of North American vultures invites both contemplation and envy. . . . A book as inspired as the bird that is its focus." —Pete Dunne, New Jersey Audubon's ambassador for birding and author of The Wind Masters: The Lives of North American Birds of Prey