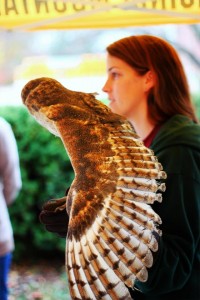 Katie unites her passions for writing, teaching, nature, and art through several important projects.
She is one of the founders of the Avian Conservation Center of Appalachia, Inc., a 501c3 nonprofit organization dedicated to conserving the region's wild birds through research, education, and rehabilitation. Each year, the ACCA treats more than 300 injured birds (from hummingbirds to bald eagles); visits classrooms, camps, and scout meetings with non-releasable birds of prey; and sponsors citizen-science research projects designed to engage the public with bird conservation. Katie coordinates and conducts many of the ACCA's educational outreach programs; she also manages a team of more than forty volunteers and is Chair of the organization's Board of Directors.
Additionally, Katie collaborates with faculty and researchers from the US Forest Service and West Virginia University's Biology Department on several ongoing projects that bridge the sciences and the humanities. She coordinates the Field Guide to the Fernow written and visual art contest, an endeavor designed to connect the public with the Fernow Experimental Forest, an important research station within the Monongahela National Forest. Her summer course, Writing Appalachian Ecology, is designed to train both graduate and undergraduate students to "translate" biology for readers of creative writing. Read more about the course here. Katie is also a contributor to the Ecological Reflections Network: An Archive of Art and Science Collaborative Efforts.
Katie understands the value of supporting local food sources. From June through October Katie serves as volunteer Market Manager for the Cheat Lake Farmers' Market, an endeavor of another local nonprofit organization. In addition to farm-fresh fruits and vegetables, vendors sell local meats, honey, syrup, baked goods, and more.