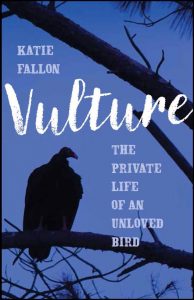 VULTURE: The Private Life of an Unloved Bird (University Press of New England, March 2017)
VULTURE chronicles the life and times of one the world's most under-appreciated and overlooked birds: the turkey vulture. Part ecological memoir, part travel narrative, part scientific exploration, and part love story, this book examines the roles turkey vultures–and all vultures–play in healthy ecosystems. Fallon travels to India, Arizona, Virginia, Pennsylvania, and her own backyard in her quest to study, care for, and observe this often unloved though vitally important (and uniquely beautiful!) bird. Available from UPNE, Amazon, Barnes & Noble, and wherever books are sold.
Listen to Katie talk about vultures with Bill Thompson III of Bird Watcher's Digest on "This Birding Life."
Listen to and interview with Katie on Bird Calls Radio.
Read Katie's lighthearted Buzzfeed list about baby turkey vultures here.
Praise & Reviews:
"When you read this book you will know why I consider it to be the most eloquent and beautiful depiction of a vulture ever… A heartfelt and authoritative account of the world's most numerous and misunderstood avian scavenger. Written in a style reminiscent of Edward Abbey and John McPhee, Fallon successfully captures the natural history of the species and its ability to succeed in both natural and man-made landscapes. Destined to change the mind of anyone who reads it." — Keith L. Bildstein, PhD, Sarkis Acopian Director of Conservation Science at Hawk Mountain Sanctuary
"Naturalist and bird rehabilitator Fallon (Cerulean Blues: A Personal Search for a Vanishing Songbird) presents an entertaining, well-researched title that nominally concerns the familiar turkey vulture but ranges widely, incorporating up-to-date information on condors and vultures worldwide… She displays great passion and enthusiasm yet writes knowingly and dispassionately on the science of her subject in an engaging, literary style." — Library Journal, starred review
"This book is about vultures in the human world, but nowhere in the story does the human aspect overly intrude. The great birds are front-and-center, consistently painted in a positive and empathetic light. It is to Fallon's credit that she is able to coax the reader into the same love affair with vultures that she herself enjoys, without romanticizing her subject to the point of putting off her audience." — Sense of the Misplaced
"Who would have suspected the astonishments of vultures? Katie Fallon has given us an ingenious, funny, delightful book."—Janisse Ray, author of Ecology of a Cracker Childhood
"Katie Fallon, who writes with elegance, humor, and restraint, tells the lost stories of the vulture tribe. This book will fill you with wonder."—David Gessner, author of All The Wild That Remains: Edward Abbey, Wallace Stegner, and the American West
"Fallon shines a bright light on this clan of sadly unloved birds, which are not only vitally important ecologically, but are also among the most imperiled avian groups on the planet.  Vulture is an overdue love letter to a bird that deserves far better than we've given it."
—Scott Weidensaul, author of Living on the Wind
"This is a book that begged to be written. . . . Fallon allows that the study of flying turkey vultures is akin to meditation. Rarely hurried, coursing the heavens like a setter seeks quail, this most widespread of North American vultures invites both contemplation and envy. . . . A book as inspired as the bird that is its focus." —Pete Dunne, New Jersey Audubon's ambassador for birding and author of The Wind Masters: The Lives of North American Birds of Prey
CERULEAN BLUES: A Personal Search for a Vanishing Songbird (Ruka Press, 2011)
"A must for birding enthusiasts, environmentalists, and those with a reverence for life's small wonders,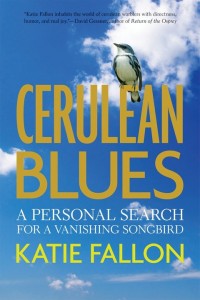 who ask with Fallon, 'If we start losing pieces of things, where will we stop?'" —Booklist
Cerulean Blues describes the plight of the cerulean warbler, a tiny migratory songbird, and its struggle to survive in ever-shrinking bands of suitable habitat. This elusive creature, a favorite among bird watchers and the fastest-declining warbler species in the United States, has lost 3% of its total population each year since 1966. This precipitous decline means that today there are 80% fewer ceruleans than 40 years ago, and their numbers continue to drop due to threats including deforestation, global warming, and an ecologically devastating practice—mountaintop removal coal mining—that affects not only the cerulean warbler but all residents of the Appalachian mountains, including humans.
With both scientific rigor and a sense of wonder, Fallon leads readers on a journey of more than two thousand miles—from the top of the forest canopy in the ancient mountains of Appalachia to a coffee plantation near troubled Bogotá, Colombia—and shows how the fate of a creature weighing less than an ounce is vitally linked to our own.
Cerulean Blues will appeal to nature lovers, bird watchers, actual and armchair adventurers, and anyone interested in the health and future of our planet.
Listen to an interview with Katie on West Virginia Public Radio.
Praise & Reviews:
"Cerulean Blues is part journey, part documentary, and wholly engaging; a tribute to a bird that bridges continents with its wings and to a rising star among contemporary nature writers." — Pete Dunne, former Director of the Cape May Bird Observatory and author of Hawks in Flight
"From the gentle Appalachian ridges to the rebel-haunted cloud forests of Colombia, Katie Fallon immerses herself in the world of the cerulean warbler–a tiny, lovely songbird few Americans have heard of, but which is emblematic of the increasingly desperate plight of migratory birds in general." — Scott Weidensaul, Pulitzer Prize finalist
"Cerulean Blues made me laugh and cry, and even moved me to make a donation … and look into further ways that I can help this imperiled bird. And that – even beyond being entertaining, informative, and beautifully written – is the true value of this book. I think anyone, whether or not they particularly like birds, would enjoy this book. But those that do like birds, especially the enchanting Cerulean Warbler, or are concerned about bird conservation in general need to read Cerulean Blues." — The Birder's Library
"Katie Fallon inhabits the world of the cerulean warbler with directness, humor, and real joy… This book is a pleasure to read, and will open the eyes of many to the life of a small creature fighting an enormous fight." — David Gessner, author of Return of the Osprey
For more reviews, click here.